i
Basilisa Chair 23.75 x 23.75 x 32 H inches, Seat 17.25 H inches Mahogany, Rattan
Basilisa Chair 23.75 x 23.75 x 32 H inches, Seat 17.25 H inches Mahogany, Rattan
Basilisa Chair
Order by Phone: 866-804-1909
Product Description
Cubistly cool, this contemporary rattan side chair will wrap you in pattern. Handcrafted of kiln-dried mahogany & rattan, each section is woven in a unique pattern to represent the different regions of the Filipino archipelago.
SPECIFICATIONS
Mahogany frame

Rattan

23.75 x 23.75 x 32 H inches, Seat 17.25 H inches
DETAILS
Handmade in the Philippines

Wipe with a soft, dry cloth to clean. To protect finish, avoid the use of chemicals and household cleaners.
---
ABOUT THIS COLLECTION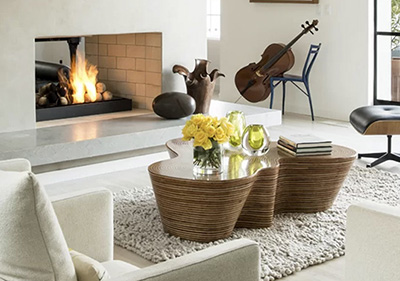 Artistic, sculptural, and defined by a desire for the unique and eye-catching in materials and form, Oggetti's inspired designs put signature personality on a space, making it chic and timeless. A leader in modern design for half a century, their collection has a decidedly Italian sensibility. Let their alla moda aesthetic and attention to beauty elevate and inspire you.
Shop All
---
SHIPPING & DELIVERY
USA (contiguous): • Free Delivery • 2-5 days in transit • Ships with a FedEx Ground

International: • You will be contacted with a delivery price before shipment • 7-14 day transit time (average) • Sent tax and duty collect
RETURNS
This item is final sale and not available for return.

Other Details
Oggetti Furniture
RELATED VIDEOS
beautiful products
How many ways are there to say, "I love it?" You can count them. From lighting that delights you, to chairs that cheer you and tables that turn heads, we unite beautiful design with quality materials and craftsmanship down to the smallest detail.
custom design
We speak bespoke. Our custom design team will collaborate with you to make your design dreams come true. Our artisan workshops pride themselves on the ability to translate your vision into beautiful objects made with exceptional materials and craftsmanship.
Pfeifer Studio creates with a mission, to unite great design, exceptional materials and superior craftsmanship under our discriminating eye, creating inspired furnishings for people who are passionate about design.

The best artisan workshops in the US and abroad create our products, each staffed with dedicated craftspeople, who care for the quality of the design as much as you. We visit our workshops often, and build strong personal relationships with the owners. This support of the art of one-at-a-time allows us to create handmade, finely crafted furniture and accessories. When your order arrives, you'll see why.

We speak bespoke. You can customize our line or have us create your own exclusive designs. Regardless of your needs, from an interior that makes you swoon to a standout hotel lobby, we can bring your vision to reality, on schedule, on budget and beyond your expectations.

You will not find our collection in an Interior Design Showroom or at your favorite boutique. Our designs are exclusive to us. We've kept the best for ourselves, and for you.

All great design needs worthy companions. In our travels we've discovered other remarkable lines from designers and artisans that we love and think you'll love too. They are exclusively available right here to mix and match with our own collection.

In the end our vision is simple.

You love great design and we strive to create beautiful products to inspire your vision.

We want you to say P. S. I love it! every time you work with us. #psiloveit
Other Details
Oggetti Furniture
RELATED VIDEOS
10% OFF